EHX 1009
, Millvale, PA, 821-2415, Relax... with A Hobby!!!, BLT. 1-38,
official website
Athearn 40' slide-door box car, upgraded with metal wheels and Kadee couplers.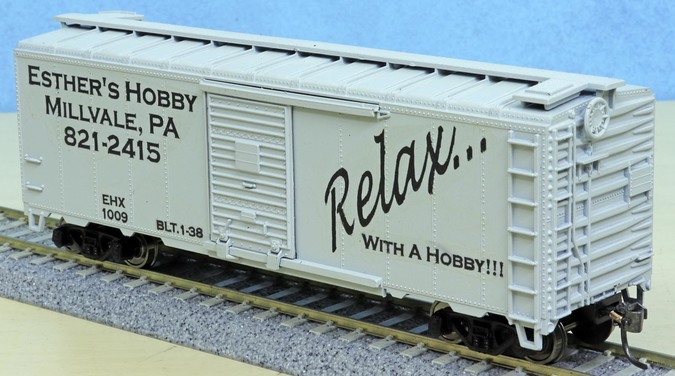 このモデルで特筆すべきは、ブレーキハンドルが塗装済だったこと。他に発売時期を推定する手掛かりは、車体高さがブルーボックスの標準で、カプラーがホーンフック型、組立説明書にはアサーンの旧所在地が書かれ、添付されていたMR誌の販売促進葉書には同誌1997年2月号の表紙が写っていること。

店は75周年となる2012年現在、82歳のBob Mehlerが切り盛りする。母親Estherが1938年に立ち上げたバラエティストアで彼が働き始めたときは10代だった。2004年9月17日にハリケーン・イワンで破壊されたが、その年のクリスマス2週間前には再開したという。
The notable thing with this model is that the brake wheel was pre-painted. In addition, the height of the roof walk is the standard of the blue box models, the couplers are hornhook type, the assembly instruction sheet describes the former location of Athearn company, and the attached MR promotion postcard is the February 1997 issue front-cover of the same magazine. Therefore, the release date is likely to be predictable.

As of 2012, the shop's 75th anniversary, 82-year-old Bob Mehler ran everything. When he started working at the variety store, which his mother Esther launched in 1938, he was a teenager. It was destroyed by Hurricane Ivan on September 17, 2004, but resumed two weeks before Christmas of that year.